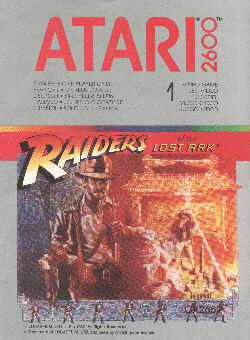 Genre: Action
Producer: Atari
Released: 1982
Data Medium: Atari 2600 cartridge
System Requirements: non
Info: This is the oldest Indiana Jones game I know of. The Indy figure is a composition of only 28 (!) pixels.
In this Adventure you take on the role of Indiana Jones, and must travel throughout the land in search of the Staff of Ra and other objects so you can find the Well of Souls where the Ark of the Covenant is hidden.
This game can be rather difficult to figure out at first, but once you get the hang of it, it is fairly entertaining.

For this game you can ...
• ... read credits and trivia.
• ... read an advertise for the game! « new
• ... read the manual page about objects in the game.
• ... see the animated game intro.
• ... get some information about the entrance screen.
• ... download a playable ROM copy (6K, ZIP).
• ... read more about Atari 2600 emulators.
| | | |
| --- | --- | --- |
| IJC Rating: [ | | ] |