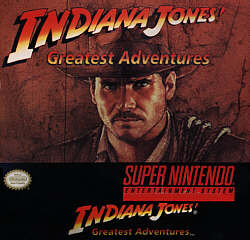 Genre: Action, Jump & Run
Producer: Factor 5 & Lucas Arts
Released: 1994
Data Medium: SNES cartridge; NTSC and PAL versions available
System Requirements: non special

For this game you can ...
• ... see the front and the back of the box.
• ... see the PAL (above) and NTSC (below) cartridge.
• ... see the LucasArts logo and the copyright page.
• ... watch the intros: Raiders, Temple of Doom, and Last Crusade.
• ... get level access codes and Game Genie codes.
• ... download a playable ROM copy (1636K, ZIP).
• ... read more about SNES emulators.
| | | |
| --- | --- | --- |
| IJC Rating: [ | | ] |