Editing:
Graphic Design:
3-D Fold-Up Figures:
Illustrations:
Carthography:
Typography:
Keyline:
(c):
Contents:
Anne C. Gray
Dennis Kauth
Dennis Kauth
Jeff Easley
Tom Darden
Betty Elmore, Kim Landau
Colleen O'Malley
1985
• Introduction
• Episode 1: Meeting with the Minotaur
• Episode 2: The Kara Kavan
• Episode 3: Death on Ice
• Episode 4: On the Edge of Forever
• Maps: The Labyrinth, The Dig at Kara Kavan, The Office Tent, Ra-Lundi, The Temple of F'han-tal, Mountain Wilderness
• Handouts: Medaillion/Map, Telegram, Nazi Letter
• 3-D Figure Sheet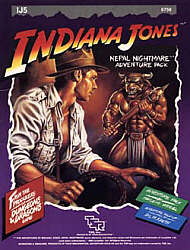 ---
Brief Description: Another storyline based on a Marvel Further Adventure comic (#17 and #18). Marion and Indy discover a Shangri-La in the Himilayan Mountains were Marion's father Abner Ravenwood had disappeared
before the events of Raiders of the Lost Ark.
---
Cover Teaser: Terror grips the throat of Indiana Jones, as the frail bridge sways in the icy mountain wind! Where moments before only a blank snow-swept ledge stood, there now looms a monstrous dark figure, the ends of the bridge torn free in its claws. Indy's cold-numbed hands slip on the icy ropes.
Hard to believe that a simple telegram could have led to this. But then again, that telegram gave Marion hope that she might still find her father alive. And Indy knew he would have to join the search for Abner Ravenwood.
If ever there was a time for action, it is now! Indy struggles to reach the far side of the bridge, but too late! The shriek of the wind combines with the roar of the beast and with a violent shudder it fings the sundered bridge, Indy, and Marion into the yawning chasm!
From the charming isle of Crete with it's legendary labyrinth, to the challenge of the snow-covered Himalayas, Indiana Jones and Marion face fantastic foes and seek fabled lands in search of Abner Ravenwood. Old foes and new conquests face the greatest adventurer.
The product features the colorful ADVENTURE FOLD-UPTM Deathtrap, to add suspense and excitement to your games. Also incuded is a full-size poster map of the adventure areas.
This adventure is for use with THE ADVENTURES OF INDIANA JONESTM role-playing game from TSR, Inc. and cannot be played without that game.