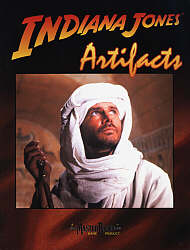 Design:
Introduction + add. material:
Development and Editing:
Cover Design and Graphics:
Cover Illustration:
Interior Illustration:
Maps and Diagrams:
TM & (c)
ISBN / Stock No.:
Additional info:
Contents:

Scott Baron and John Terra
George Strayton
George Strayton
Thomas O'Neill
Lucasfilm Ltd.
Jaime Lombardo & Ron Hill
Tim Bobko, Thomas O'Neill, Paul Sudlow
1995/96 Lucasfilm Ltd.
0-87431-434-8 / 45010
Softcover, 128 pages
• Introduction
• Chapter One: Africa
• Chapter Two: The Americas
• Chapter Three: Asia
• Chapter Four: Europe
• Chapter Five: The Middle East
• Appendix

Archaeologists, historians, and treasure hunters have long sought the ancient artifacts of the world. But many who ventured too close to such treasures never returned from their quests, for they fell victim to dense jungles, fanatic cults, or strange, mystical forces. Recently, however, the journal of one such archaeologist has been unearthed, and it's secrets are revealed here for the first time.

Each artifact's entry contains its description, value, last known location, history, and powers. In addition, the gamemaster will find a list of parties currently seeking the artifact, rumors and legends concerning its whereabouts, and adventure ideas for integrating it into a campaign.

Artifacts is an invaluable asset to any who dare to seek the great treasure of history. But be warned, for many who delve into the realms of the past never returned ...